I am grateful to be a part of the launch of Mark Miller's latest book, The Heart of Leadership. I will tell you how you can enter into my giveaway for a free copy of the book below.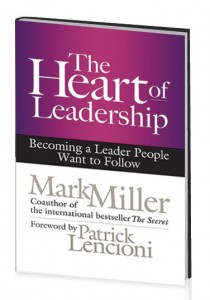 The basic question each leader must answer is this: Are you the type of leader people want to follow?
The Heart of Leadership identifies five specific leadership character traits required for maximum influence and impact, and shows how to cultivate them.

In this fourth book of Mark Miller's leadership series, readers are reunited with Blake Brown, an ambitious young man passed over for a promotion he desperately wants. With the help of his mentor and friend, Debbie Brewster, Blake begins to understand what leaders need to truly make a difference in the world. Debbie uses real life situations to steer him towards the practical path to moving forward in his career, and Blake ultimately realizes that the most effective leader has a willingness to serve others.

Where does this willingness come from? It comes from the heart.
This book focuses on a leader's character. Like I've said before, you can be a leader without character…just not for very long.
You can download a sample chapter by going here.
You can also help Mark get the word out about this book by going here.
. . . . . . . . . . . . . . . . . . . . . . . . .
Weaving Influence has partnered with Mark Miller and provided me with five copies of The Heart of Leadership to give to my readers. To earn your chance at snagging one, you must take the following two actions:

1. Leave a comment below. Answer the question at the bottom of this post.
2. Fill out the special form. I have set up a separate contact form to make it convenient for you to provide your mailing address. Please do not put your shipping address in your comment. This will automatically disqualify you. Please note that I can only ship to addresses in the United States.
On Monday, October 28, 2013, I will select five people at random. If you are one of those selected, I will notify you via email. If you don't hear from me, you can assume you were not selected.
. . . . . . . . . . . . . . . . . . . . . . . . .
UPDATE:

The giveaway has ended. Thank for all who participated. While you won't receive a book, I would encourage you to leave a comment below and add to the conversation!

Question: How does who you are as a leader impact what you do as a leader?