January 1 is such an exciting day. Sooo many people are all geared up to make changes. They start writing. They start working out. They start eating vegetables. They start…
Then there's January 11. Not such an exciting day. And not very many people doing what they set out to do on January 1.
Why can't we find the self-discipline to do the one thing we promised ourselves we would do?
It's because we don't have a plan. We don't have a framework to follow. We made a decision but we have no idea how to manage that decision.
That's why I created: 90 Day Decision.
I wrote it for you and for me. I wrote it because I wanted to share the framework I've developed to do something for 90 days in a row.
The world is full of people who make a decision but can't get to Day #11. Why is that?
In 90 Day Decision, you'll discover:
The power of making a plan and following a plan.
What role pain plays in our decisions.
How to make a promise that lasts.
How to find joy and celebration in the journey.
A step-by-step guide from Day #1 to Day #90.
I have made my own #90DayDecision and am currently on Day #33 of another one. You can do this. You need to do this.
Here's what I've received after doing one thing, for 90 days, in a row: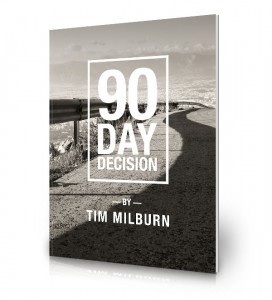 Confidence – That feeling that comes from pushing yourself and sticking with something through all of the obstacles. Having discipline in this one area fueled my discipline in other areas of my life.
Credibility – When people see I did something for 90 days in a row, they want to know how…they want my help and advice.
Growth – The journey changed me. I was so much better on Day #90 than on Day #1. Plus, it created growth and momentum in other areas of my life.
Are you ready to make a 90 Day Decision? I believe you'll be amazed at what you can accomplish when you make this kind of decision.
One Thing + Everyday + For 90 Days + In A Row