I empower students to develop their leadership skills and I equip those who show them how. I use the stories of my life and the lives of others to inspire people to live better, more meaningful lives.
My goal, every time I step in front of an audience, is to create a memorable, educational, and motivational experience.
I've spoken at over 150 camps and retreats, numerous student leadership training events, and keynoted at youth conferences and conventions. I've spent more than 25 years connecting with students and walking alongside their leadership development journey.
I also train the adults who do what I do – they spend each year investing in a new group of student leaders. I am constantly creating tools and resources to put into the hands of those who share my passion and desire to develop student leaders. I've been at this for quite awhile and I'd welcome the opportunity to partner with you in this significant work.
• I Want To Exceed Your Expectations •
When you contact me for your event, I make the following promises:
1. You'll talk to me directly. I don't work through a speaker's agency.
2. I will work with you and your budget to help you create a memorable event.
3. I will help you spread the word about your event, if you would like, through my social media channels and my site.
4. I will adapt my presentation to your audience to meet your needs.
5. I will followup with you to make sure we accomplished your goals.
• My Latest Topics • 
I speak on topics related to leadership, personal growth, and faith. I am constantly tweaking my material to meet the specific needs of my audience. I've promised to help you create an event that exceeds your expectations and achieves your desired outcomes.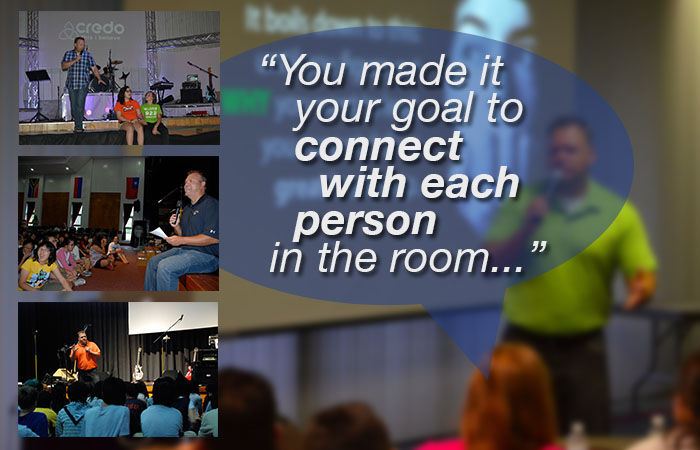 The following topics are central to solid student leadership development. These are messages that need to be heard. I can present these as a keynote or a workshop. I can also adjust the presentation with more interaction to fit into your half-day or full-day training slots.  Please click on the "More" link at the end of each topic description for greater detail.
• What Others Are Saying •
[easingsliderpro id="1″]
• Media •
VIDEO:
Here's a presentation I made at IgniteBoise in April, 2012. The event took place to a sold-out crowd at the historic Egyptian Theater. While the presentation is a bit tongue-in-cheek (How To Properly Navigate A 4-way Stop), I hope you'll see I enjoy making every speaking engagement lively and entertaining.

This is a presentation I made to our student leaders emphasizing the power of example and becoming the picture in people's minds as a means of leadership influence.

Here is my attempt at stand-up comedy. I always incorporate humor into my talks, speeches, and workshops. This is clip is all comedy.

In this clip, I am teaching a student leadership class about what it means to lead oneself well using the Johari Window. There are a couple of key takeaways that will benefit every person engaged in the self-leadership process.

AUDIO:
Developing A Life Of Gratitude | 26 mins | 4MBDeveloping A Life Of Gratitude
The Power of Character | 29 mins | 4MBCharacter Talk
How Old Is Too Old To Trick-Or-Treat? | 3 mins | 3.2MBHalloween
• The Next Step •
I appreciate you taking the time to consider me for your next event. Please click the button below to provide me with more details and to check my availability. I will get back to you personally.