I first heard of Nick McCormick when he sent me a copy of his first book, Lead Well and Prosper. It was a fairly quick read (short chapters with great summary statements at the end) chocked full of helpful leadership advice.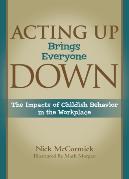 So you might have guessed I was (very) pleasantly surprised to know that Nick had written another book. He provided me with a preview copy to take a look. This one is entitled, Acting Up Brings Everyone Down.
The premise of Nick's latest work is a comparison of the quirky and often immature behaviors of children that have somehow found their way into, what we hope would be, the mature adult workplace. It appears that some of us haven't grown up all the way just quite yet.
One of the tools that Nick uses throughout his books is an illustrative dialogue between fictional workplace characters. This simple technique draws you in to each scenario. Then Nick goes to work on helping the reader see how simple childish behaviors aren't really helpful at all in our work environments.
Topics range from lying, whining, shirking responsibility, selfishness, pushing the rules, procrastination…and many more. Each chapter ends with a list of solid "do's and don'ts." Perhaps the best part of the whole book is that Nick takes these summary statements from each chapter and lists them all out in a couple of appendices in the back. You've got all the good stuff in understandable statements to refer back to later.
This book will serve as a great wake-up call to anyone who goes to work each day. There's a big difference between an adult who approaches the world with childlike wonder and the one who still lives each day with childish behavior. The only caution I would offer is to the person who is contemplating having children of their own. Nick does a great job of identifying a lot of negative behaviors that children are prone to exhibit. Having raised four kids of my own I can see these tendencies at different times in all of them. But kids will also surprise you and sometimes act more mature than the adults in the room.
You can purchase the book by visiting the Be Good Ventures site. Nick also offers a sample of the book. I recommend you take a look and buy a few copies for your workplace. Sharing the book with your co-workers would probably be more productive than simply reading the book on your own and writing their names next to the childish behaviors.