I am taking a break from writing for a few days to evaluate the second half of 2012 and for a speaking engagement in Southern California. While I'm away, I'm re-posting some of my most popular posts from the last year. I hope you enjoy reading or re-reading these posts. I'll be back and better than ever on July 16, 2012!
Think about all of the people you encounter on a daily basis. Each of those encounters has the potential to move you closer to the person (intimacy) or farther away from the person (estrangement).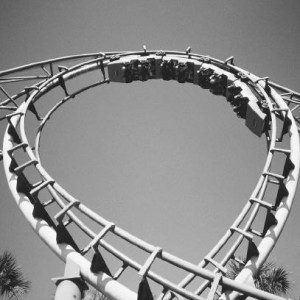 At times it may appear that an encounter has no effect, but I'm not so sure that's true.
Relationships aren't static. They're always moving, fluctuating, and changing.
For this post, I want to illustrate each encounter as a loop on a path, much like you would see on a roller coaster. If you're moving down the track and encounter a loop, it requires momentum and energy to climb the loop.
Yet the loop also creates momentum and energy as you start back down the other side. If you have enough momentum to climb the loop, you can make it all the way around and continue on the track with sustained momentum. But if something happens along the way and you fail to navigate the loop properly, the loop becomes a barrier to successfully moving forward.
Let's call this "getting stuck."
I believe there are some subtle ways we can become stuck in these relational loops and aren't able to move forward. In fact, sticking with the loop metaphor, when we become stuck by these behaviors the loop actually becomes a downward spiral.
It doesn't matter if these actions are intentional or not. Each has the same effect of leaving a relationship stuck in a circle that's going nowhere.
Can you identify any of the following in your day-to-day encounters?
1.

Unexpressed gratitude.

I don't care how much gratitude you feel or how much you think you are a grateful person, if you don't say it…it doesn't really exist. Don't believe me? Try this little experiment: Next time someone does something nice for you or offers you a gift just feel grateful, but don't say thank you. Then go back to that person later and ask them if they felt your gratitude. Sounds silly. But it's a loop.

If you don't say thank you, you actually come across as ungrateful. Doesn't matter how you feel on the inside. The moment you say thank you, you close the loop. You move forward.
2.

Unclear expectations.

Have you ever been in a situation where you didn't know what was expected of you? It's like trying to find your way in the dark. The worst time in the world to express your expectations of someone is right after he or she hasn't reached them.

How do people know what your expectations are unless you express them? It could be your expectations for a relationship, job performance, work environment, or just about anything. If you don't state up front what your expectations are you create a loop that people can't get out of. It causes frustration and confusion.

Make your expectations clear and you free people up to know what to shoot for (and even surpass).
3.

Unforgiven wrongs.

Can I let you in on a little secret (it's actually a big secret…that you already know): every person you meet has the potential to wrong you in some way.

The truth is there aren't any perfect relationships. You will never meet another person who gets everything right and does everything the way you like it. And if we're honest, we commit our fair share of wrongs as well.

In any relationship, the loop is broken when we begin to harbor those wrongs in our hearts. When we see someone and begin to work our way down the list of "all the ways I've been hurt by that person," the loop becomes a spiral.

One of the hardest, yet most freeing actions in the world is to forgive someone who has wronged you. If you hold onto it, it will slowly eat at you over time.

The other side of forgiveness is just as important. If you've wronged someone, go to them and ask for forgiveness. Apologize and seek to make amends. Only then can the loop begin to be repaired so that both people can move forward.

If you find yourself in a leadership position, it might be important to pull your group or team aside and address each of these behaviors. We don't talk about them very much.

Yet one, two, or all three may be lurking in the background, just under the surface. They may be holding you and your team back from being the best you can be, for each other and and for your organization.